This service is currently unavailable.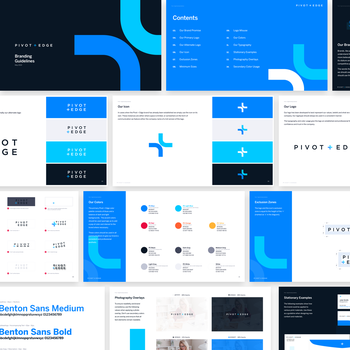 Custom Corporate Brand Guidelines + Consult
by Dave R.
Brand guide service
► Personalized service from a 5 star rated, 12+ year experienced designer. Let me help you take your business's brand from just a logo to a professional Fortune 500 aesthetic.
► With this service, I will be available to consult with you via phone, Zoom, etc. We'll devise the best plan for your brand and I will execute and deliver an exceptional, customized brand book.
► Includes up to 30 pages.
► Standard pages that are included on all brand guides:
- Cover page
- Table of Contents
- Mission Statement/Pillars*
- Logo Definition (all formats and colors)
- Mark/Symbol Definition
- Typography**
- Color Guide
- Logo Exclusion Zones
- Logo Minimum & Maximum Sizes
- Logo Incorrect Usage
- Iconography**
- Forms & Data
- Merchandise Application
- Print Collateral (print-ready files will be provided)
- Business Card
- Letterhead
- Envelope
► Examples of additional pages that can be added (up to a total of 30 pages):
- Brand Positioning*
- Brand Tone/Voice*
- Buyer Personas*
- Trademark Placement
- Franchise Usage
- Photographic Style**
- Graphic Overlays
- Pattern
- Secondary/Tertiary Colors
- Color Pairing
- Typography Application
- Fallback Typography**
- Email Signature Example
- Print Detail
- Social Media
- Resources
*Content provided by client
**Client is responsible for all purchasing/licensing
► What this does NOT include:
- Discovery/Research Gathering
- Logo Design
- Logo Adjustments
- Logo Exports
► Examples of completed guidelines:
https://www.dropbox.com/s/utb8axaygz4psga/pivotedge-brand-guidelines.pdf?dl=0
https://www.dropbox.com/s/zbe4ahjpq9woiwn/iava-brand-guidelines.pdf?dl=0
https://www.dropbox.com/s/edfsknz7rim0mpi/laquita-cleare-brand-guidelines.pdf?dl=0
Please send a direct message with any questions you may have.
What you will get
Brand Guidelines and print collateral will be designed in Adobe Illustrator and exported as print-ready PDFs so you can share with your team, partners and other designers to ensure consistency.
Note: Stock photography and fonts defined within the guidelines must be purchased by the Client. Vector logo files must be provided by the Client. Adjustments to the logo are not included. This includes adjustments to colors, typography, spacing, layout, variations. Logo export services are available at an additional fee.
Portable Document Format (PDF)